WENDT CORPORATION has announced the sale of a high-volume MTB wire chopping line to GLE Scrap Metal. The MTB line represents part of an overall company strategy by GLE to broaden their presence in the scrap industry. In addition to continuing to serve their current customer base, the ability to upgrade their wire to clean, copper chops opens up additional market opportunities for the company.
"The scrap market is constantly changing." Dave Siejka, MTB Business Development Manager for WENDT said. "By adding wire chopping capabilities to their operations an already successful company like GLE takes its destiny into its own hands by adding the flexibility to meet the quality needs of their expanded customer market."
GLE Scrap Metal is a first generation, family owned business that found its roots in electronics recycling in 1999. Since that time, the company acquired its first non-ferrous metals facility in 2004 and has grown the company to a total of three full-service ferrous and non-ferrous facilities in Florida, two in Michigan, an R2 Certified electronics recycling center, a brokerage and trading division that has a new office currently under construction, and their latest acquisition of a 25-acre facility in Ocoee, FL, which will house the wire chopping installation. As a company of over 150 employees, GLE operates HRB balers at its facilities, portable shears, logger balers, and collects ferrous and non-ferrous scrap from the general public, industrial accounts and scrap dealers across the United States.
GLE's wire chopping line will be housed completely indoors, is fully automated and includes the latest models of pre-choppers, granulators, air density tables and vibratory screens that MTB offers.  Built with MTB's proven robustness, process and equipment for optimal quality and reliability, the line is capable of processing a multitude of difficult to process materials including aluminum and copper cables, shredder wire, ACSR, BX cable, URD cables, Cat5 cables, ICW from ASR, and aluminum copper radiators.
GLE prides itself on growth opportunities for their employees and providing a high level of customer service, both of which have contributed to their growth. "After our visit to France and processing our materials through the MTB processing facility, we were not only impressed with the equipment's capabilities, but we felt that the personnel from both WENDT and MTB had similar core values and vision to that of ours at GLE," said Danny Zack, GLE Vice President. "Our commitment to growth in the scrap industry requires us to work with the best in order to be the best. We view our purchase of this wire chopping line as an investment in our future and as a partnership with WENDT and MTB that will continue well beyond this equipment."
Siejka adds, "GLE is committed to quality in terms of what they supply their customers, how they treat their employees and what they require from their vendors. The demand for quality is a part of GLE's culture; it permeates throughout their organization. Commitment to quality is really what ties GLE, WENDT and MTB together. In order for GLE to fulfill their commitment to quality, they need top quality equipment backed by best in class service and support to produce the highest quality products their customers require."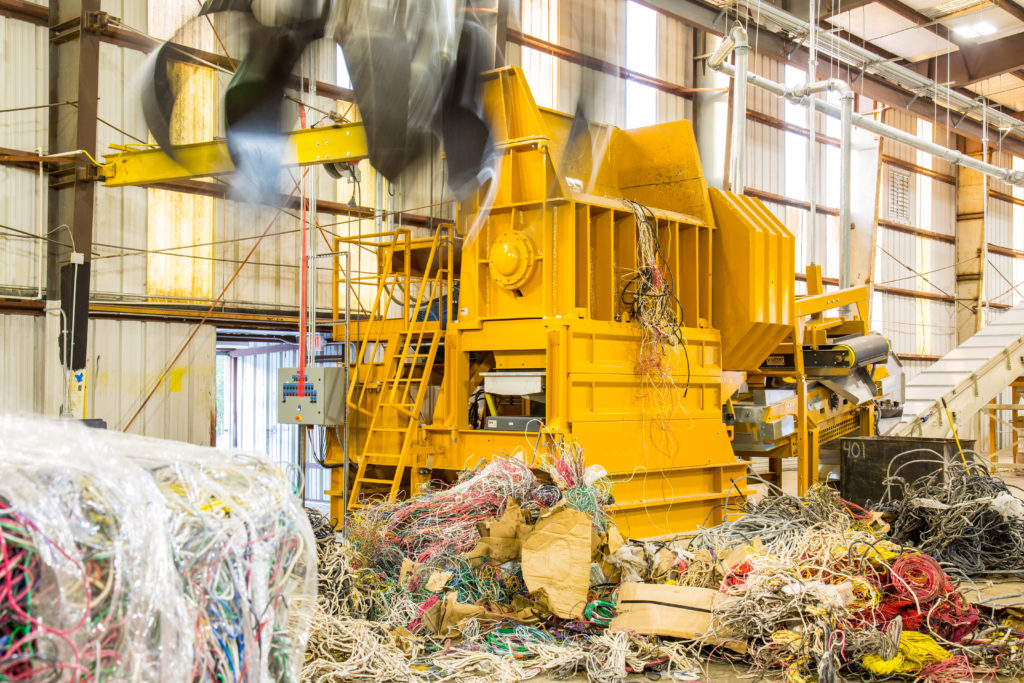 The company plans to start by processing #1 and #2 copper wire and cables and running the equipment 24 hours/7 days a week. "Our continued belief in organic growth and the new opportunities available to us with this equipment will not only provide more opportunities for our employees, but will allow us to maximize the value of our products and ultimately the service we provide to our customers," Zack says. With the purchase of the chopping line, GLE plans to sell their upgraded materials package both domestically and overseas.
GLE's MTB wire chopping line is running and fully commissioned and operational on their 25-acre site. If you are seeking employment, or if you would like to inquire about GLE services please contact Daniel Poris (Dporis@glescrap.com). GLE would like to thank its customers, its team members, its vendors, and its consumers for making this opportunity possible.