WENDT CORPORATION today announced a joint venture agreement with PROMAN Infrastructure Services Pvt Ltd. The joint venture results in the establishment of new company, WENDT PROMAN Metal Recycling Pvt. Ltd, as the companies identify India as an emerging market for shredding and separation technologies.
The Buffalo, NY-based WENDT CORPORATION is a leading manufacturer of shredding and separation recycling solutions in North America. PROMAN, based in Bangalore, India, specializes in heavy industrial equipment solutions with a focus on crushing, screening, and material handling solutions. The joint venture is a strong strategic fit, leveraging the two companies' complementary expertise. Employing over 150 people, PROMAN will contribute local manufacturing infrastructure, an exclusive sales network, post-sale service and support, and expertise in India's industrial market. WENDT will supply a comprehensive portfolio of shredding and non-ferrous product designs and solutions, engineering support along with 45 years of scrap metal recycling expertise.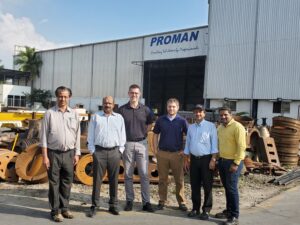 New government regulations in India outline criteria for defining end-of-life vehicles and scrapping them. The formal scrappage policies result in infrastructure for the safe disposal of waste and material recovery to minimize environmental impacts. In addition to this, "the availability of scrap is a major issue in India with the current deficit of around 7 million tons," R.S. Raghavan, PROMAN Managing Director said. "With a recent increase in the consumption of steel and ELV's within the Indian market over the past few years, we anticipate the volume of available scrap to also increase, opening up the opportunity for new and modern recycling plants. Our joint venture with WENDT, will allow us to offer complete shredding and recycling solutions at a competitive price with local after-sales support in India," Raghavan added. With the current estimates of around ten million unfit vehicles on the road in India, there is high growth potential for hammermill shredders in the region.
With the announcement of the formation of WENDT GmbH in August, the joint venture agreement with PROMAN represents WENDT's continued commitment to global expansion. "We are proud to join forces with PROMAN – combining our experience in auto shredding and leading-edge technology with their large-scale manufacturing capabilities and Indian market expertise," said Tom Wendt, President of WENDT CORPORATION. "The combination of our complementary services allows us to properly serve the expanding market needs of the Indian market and surrounding regions as a full-service organization."